Indoor Air Quality Accessories

Whether you want single-room surface and air purification or need it home-wide, we can help you make the right decision and discover the best solution.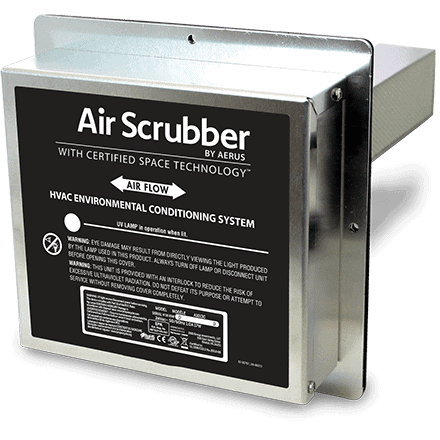 Air Scrubber by Aerus
The Air Scrubber by Aerus installs directly into residential or commercial HVAC systems to remove surface and airborne contaminants including VOCs, odors, dust, pet dander, and other allergens.
The system uses our proprietary ActivePure® Technology and has been tested in independent labs and proven effective on bacteria, viruses, mold and fungi on surfaces and in the air.
Benefits
New & improved PATENTED ActivePure® Cell destroys over 99% of all surface and airborne contaminants faster
Proprietary ActivePure® Technology uses light waves and a catalytic process to produce scrubber ions and hydro peroxides that destroy contaminants on surfaces and in the air
Removes VOCs, odors, dust, pet dander, and other allergens
Installs directly into existing ductwork
Prevents dust build up in heating and cooling systems
Creates a cleaner and safer environment
Specifications
Electrical: Input Voltage: 24 Volts; 1 Amp; 50/60 Hz. Current: 17 Watts
Mechanical: Distribution via air handler
Operating temp: 34°F – 200°F
Dimensions: 8.5″ high x 8.5″ wide x 11″ deep
Weight: 3 lbs.
Coverage: Up to 2,000 sq. ft. Nominal, 3,000 sq. ft. Maximum
Warranty: Limited 5 year warranty


Pollutants, dust, dander, pollen, smoke and even pathogens such as mold, viruses ad bacteria all can be suspended in the air you breathe, even when you don't see them.  An iWave air purifier installs in your air conditioning system to help clean the air in your living space.  When air passes over the iWave, ions produced by the device reduce pathogens and other airborne particles, creating a healthy environment without producing any harmful byproducts.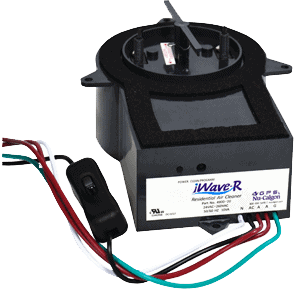 iWave-R
iWave-R treats the air in any brand of residential duct air conditioning systems up to 6 tons (2400 CFM) in size with no maintenance and no replacement parts. Designed for universal mounting, the iWave-R typically installs inside or outside of duct, or it attaches magnetically near the indoor fan in the air handler. iWave-R always works at peak performance, producing over 160 million ions/cc per polarity (320 million total ions/cc), more than any other ionizer product on the market. Its patented self-cleaning design includes a programmable cleaning cycle that can clean the emitter brushes every 1, 3, 5 or 10 days. The iWave-R is factory set to clean every third day, which is adequate for a typical installation.
Patented self-cleaning design ensures ongoing peak performance
Needle point bi-polar ionization actively treats air in the living space
For duct systems up to 6 tons (2400 CFM)
Universal voltage input – 24VAC to 240VAC!
Universal mounting with magnets
Flexible design with no replacement parts
Kills mold, bacteria and viruses
Reduces allergens, odors, smoke, static electricity and other airborne particles
Keeps coil cleaner
Programmable cleaning cycle
Alarm contact option for secondary notification
UL and cUL approved
Three-year warranty*